There are certain organizations that you instantly think about when you hear the words Veteran, Service Member and Military.
You think of the VA, you think of the usual Army, Marines and Air Force, and maybe even the Navy.  I am just kidding, the Navy is definitely there, but let's not forget about the Coast Guard!
But you may want to add one more organization to that roster; Regiment GG.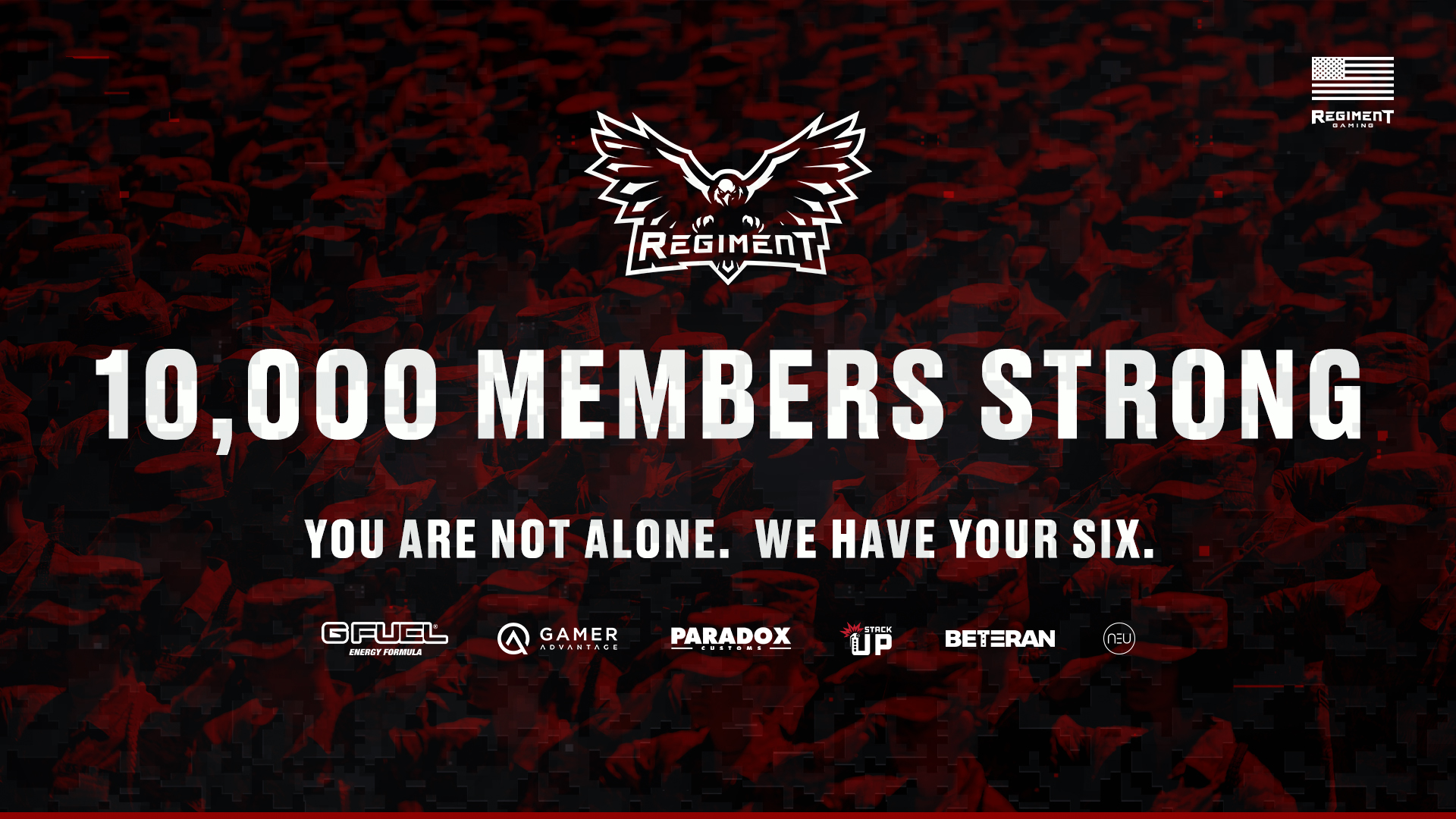 According to Brandon Hatfield, President of Regiment GG, who previously was in charge of the organization "Elevate", Chris Earl aka @Entxurage, came to him and presented Hatfield with the concept of Regiment GG. "When I heard the concept of Regiment, I was all about it," said Hatfield. "I was always passionate about helping Veterans. Not only that, but before Regiment, there didn't seem to be proper Veteran Representation in gaming from a community standpoint."
For Hatfield, this was an opportunity to not only help fill a void, but empower a large group of people.
On the 8th of May, 2020, Regiment GG was born.
By Jan 12, 2021, Regiment had grown to more than 1K members. Six months later, inn July of 2021, they had  already reached 6K members.
"I didn't know the growth would be this quick," continued Hatfield. "There was a larger void than I anticipated for sure. This community is great and makes an impact, and most importantly - people are genuine here. In an industry all about money, I feel like REGIMENT breathes a breath of fresh air in just wanting to empower and help Active Military/Veterans."
And Brandon was absolutely correct with the Veteran and Service Member community making an impact; in February of 2022, Regiment GG broke 10K members and still continues to grow. A true testament to the community of Veterans and Military personnel coming together for each other.

"Regiment GG is one of my most proud accomplishments so far," stated Hatfield. "Seeing the impact this community makes on the lives of Veterans is priceless. Seeing people overcome. Seeing people empowered. Not only that, but a great business model to see clear vision and growth. I'm all about it. I've never been so motivated about something in my life."

One thing that most people in Regiment GG knows, but has little impact on his status in the Regiment, is that Brandon Hatfield is the only member of Regiment that is not a Veteran.
"As most here know, I'm the only REGIMENT member who's not a Vet," Hatfield continued. "Unfortunately I couldn't be in the Military as I am Type 1 Diabetic. Chris asked me to help him build this because of my esports/gaming/business experience. With that said, my father was in the military. From the opposite side of most in REGIMENT, I can see the impact that can have on a family."
If you ask any Veteran or Service Member, past or present, you will hear the same sentiment; families serve this country as well.
The families sacrifice so much for their Service Members when they deploy, go away for training or even have a hard day at work. They are the rocks and pillars of the Military community and are greatly appreciated as such.
"My story is definitely different than most here, but my experiences have made me realize that Veterans need our help," Hatfield said. "I will never claim to know what it's like to face some of the challenges Veterans face, but I'm just trying my best to listen, and help where I can."
And Hatfield is helping in a way that has an immense impact in not only the Veteran community, but the gaming community as well.
By bringing all of the Veteran and Service Members together, Regiment is able to put together competitive teams in multiple gaming fields, and they are showing what we can do with our combat skills in the game and off of the battlefield.

"It feels great to see what REGIMENT is accomplishing, and most importantly to see proper representation in this industry for Veterans," Hatfield exclaimed. "A lot of time and effort has been put into this. Many sleepless nights, long travel days, day long meetings etc. Chris and I emptied our pockets to get this going, we gave it everything we had. Seeing our day one vision come to fruition is definitely a rewarding experience. We love this community."
With that passion in mind, the conversation changed to where Regiment is headed and what Hatfield hopes to see in its future.
"We want REGIMENT at the top of this industry in every aspect, and even beyond the gaming industry," Hatfield explained. "Community, esports, content, personal development, Veteran assistance, career and educational development, etc. We want to work with more non-endemic companies that align with our vision. We want an in person headquarters. We want the best apparel/merch. We have many goals to keep us busy for a long time."
It is easy to see that with Brandon Hatfield and Chris at the helm of Regiment, it will continue to make a real impact on many people's lives. 
"What this community has created is something special," Hatfield finished with. "Some of the challenges we've faced have been eye opening to say the least, but I wouldn't trade what we've built for anything. Our team is working hard, and doing the best we can to empower Veterans to be the best they can be."
Hatfield loves this community so much, and the future is bright.
"THANK YOU to the REGIMENT Staff - we wouldn't accomplish anything without you. And finally, THANK YOU to each and every member and supporter of REGIMENT." - Brandon Hatfield, President of Regiment GG